Rights
You are not authorized to use or reproduce this work for any commercial purpose or to further distribute, perform, or alter works in any way without express permission of the owner of the copyright or proxy.
Extra
Number of pages: 26
Notes
Article titles:
Wish poem
My life in 6 words:
Wish
If I should die, think only this of me…
Sadly
The angel of death
I remember…
The copycat
A poem by AJ
Halloween
Christmas
Sorrryyy…
I can't stop for death
Let us go you and I
You are made of energy
Wish
Aj's beginning
MCS poems…
Dark life…
Love and forgiveness
I am
Money money
Includes multiple untitled poems
Citation
Writers in the Community. "Humanity Is a....." (December 2019).
Contributing CKOL partner
Related contributing CKOL partner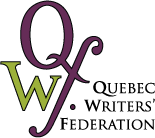 Quebec Writers' Federation (QWF)
Founded:
1998
Constituents:
English-language writers in the province of Quebec
Website:
https://qwf.org
Activities:
Promoting writers; hosting writing residencies and workshops; providing mentorships and scholarships; hosting annual gala, book fairs, literary dinners and teas; managing writer directory
Former Name:
Federation of English Language Writers of Québec