Title
Compliation of Creations
Rights
You are not authorized to use or reproduce this work for any commercial purpose or to further distribute, perform, or alter works in any way without express permission of the owner of the copyright or proxy.
Extra
Number of pages: 56
Notes
Article titles:
Trash cans
Nightmares
Invisible
Friend
Crazy
Ancestors
Dungeon
Winter sky
High school
Happy hours
Past feelings
Childhood memories
Writer, poet block
Roxanne's Rockin' Poems
Unicorn
I hate snow
The little girl
White noise
The cult
Nuck
Shopping list
Elephants
Darkness
Fallout
Cave of mystery
Motherhood
Tears
Anger
Air
Rhyme
Forced submission
Cacophony of madness
Chernobyl
Life on a clock
Pandemonium in my mind
Future
Desperation
Dark people
Life
Fake
Hell
Lies
Hate
Includes multiple untitled poems
Citation
Writers in the Community. "Compliation of Creations" (November 2019).
Contributing CKOL partner
Related contributing CKOL partner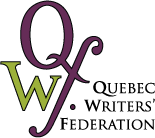 Quebec Writers' Federation (QWF)
Founded:
1998
Constituents:
English-language writers in the province of Quebec
Website:
https://qwf.org
Activities:
Promoting writers; hosting writing residencies and workshops; providing mentorships and scholarships; hosting annual gala, book fairs, literary dinners and teas; managing writer directory
Former Name:
Federation of English Language Writers of Québec