Q Write
Rights
You are not authorized to use or reproduce this work for any commercial purpose or to further distribute, perform, or alter works in any way without express permission of the owner of the copyright or proxy.
Notes
Article titles:
A New Launch Mentorship Program Reaches to Nova Scotia
David Homel 322 Words from the President
This issue: Julija Šukys takes another look at Anne Carson
2020 QWF Awards
Reading / Lire: An Act of Love Un Act D'amour
Call for interprovincial mentorships
In Memorium Keitha K. Macintosh
J.P Karwacki, Meghan Acosta and Jesse Eckerlin curate the time machine that is that Argo Bookshop...
Citation
Quebec Writers' Federation (QWF). "Q Write" 15, no. 1 (Winter 2012).
Contributing CKOL partner
Related contributing CKOL partner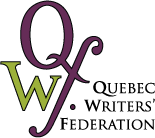 Quebec Writers' Federation (QWF)
Founded:
1998
Constituents:
English-language writers in the province of Quebec
Website:
https://qwf.org
Activities:
Promoting writers; hosting writing residencies and workshops; providing mentorships and scholarships; hosting annual gala, book fairs, literary dinners and teas; managing writer directory
Former Name:
Federation of English Language Writers of Québec